How to Know Which Button is Clicked in Java Swing
In this tutorial, we are going to see how to know which button is clicked in java swing.
To be able to check if a button is clicked using Java, we create a button and add an event listener to the button, so that when the button is clicked, a method can be called. We can create the method to do anything we want it to do.
In the following example we change the text of JLbale depending on which button is clicked: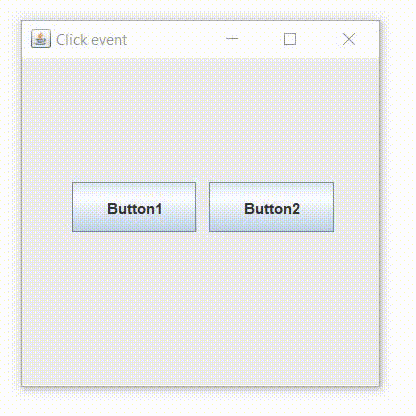 Java Program to Know Which Button is Clicked:
import javax.swing.*;
import java.awt.event.*;

public class CheckButton extends JFrame
{
  private JButton button1, button2;
  private JLabel label;
  
  public static void main(String[] args) {
    new CheckButton();
  }

  public CheckButton()
  {
    this.setSize(300,300);
    this.setDefaultCloseOperation(JFrame.EXIT_ON_CLOSE);
    this.setTitle("Click event");
    this.setLayout(null);

    Clicklistener click = new Clicklistener();

    button1 = new JButton ("Button1");
    button1.setBounds(40,100,100,40);
    button1.addActionListener(click);

    button2 = new JButton ("Button2");
    button2.setBounds(150,100,100,40);
    button2.addActionListener(click);
    
    label = new JLabel();
    label.setBounds(100,150,150,20);
    
    this.add(button1);
    this.add(button2);
    this.add(label);
    this.setVisible(true);
  }
    
  private class Clicklistener implements ActionListener
  {
    public void actionPerformed(ActionEvent e)
    {
      if (e.getSource() == button1)
      {
        label.setText("Button 1 is clicked!");
      }
      
      if (e.getSource() == button2)
      {
        label.setText("Button2 is clicked!");
      }
    }
  }
}
Output: