How to Change Font Size in a JButton
In this tutorial, we are going to see how to change font size in a JButton, using the method setFont() of JButton class.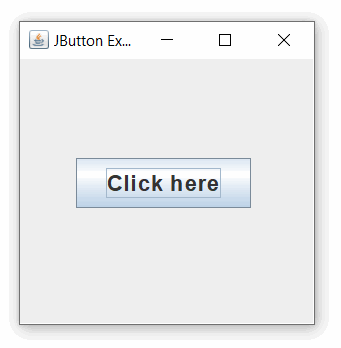 Example:
JButton button = new JButton("Click here");
button.setFont(new Font("Arial", Font.BOLD, 18));
"Arial" is obviously the name of the font used.
"Font.BOLD" means bold text (as opposed to PLAIN or ITALIC).
"18" is the font size (using the same numbering system for font size as Microsoft Word).
Java Program to Change Font Size in a JButton:
import javax.swing.*;
import java.awt.*;

public class JButtonExample
{  
  public static void main(String[] args) 
  {
    //create a frame
    JFrame frame = new JFrame("JButton Example");
    //create button
    JButton btn = new JButton("Click here");
    //set button position
    btn.setBounds(45,80,140,40);
    //change font size of JButton
    btn.setFont(new Font("Arial", Font.BOLD, 18));
    //add button to frame
    frame.add(btn);
    frame.setSize(250,250);
    frame.setLayout(null);
    frame.setVisible(true);  
  }
}
Output: